Our mill, set in the charming village of Avoca Co. Wicklow, could easily be overlooked as a picture-perfect relic of times gone by. However, within these white washed walls lies the hub and heart of our weaving industry.
All of our weaving and much of our design processes occur here. We love welcoming visitors to our mill where they can soak up the atmosphere and observe the weaving journey in progress. Having seen first-hand the care and attention which goes into each piece, visitors can continue to our shop and enjoy some of the delicious homemade sweet and savoury treats on offer in our café.
When touring our weaving mill, we feel visitors get a real sense of the skill and expertise of our weaving team. These dedicated local craftspeople have been working with us for many years. For some, the weaving trade has been passed down through the generations of their family and they can identify family members in the old photos adorning the walls.
Although we love sharing this experience in person, we feel it is important to document the journey for our customers who have not yet had the opportunity to visit us. We want you to know the hard work, care and attention our team pours in to each new piece of fabric as it passes from our home to yours.
The Avoca Mill Tour
Our mill tour will be closed for the season starting Monday 30th October, 2023.
Tours will commence again in March of 2024 and our fantastic tour guides Jim and Allan look forward to welcoming back our visitors and sharing our wonderful history, weaving processes, and lots more.
Audio guides are available in German, French, Spanish and Italian. With 2023 being the 300 years of our weaving mill, established in 1723, there is lots to talk about and celebrate this year.
For private tour enquiries or group bookings for 2024 please email tours-events@avoca.com
Opening Times (until Sunday 29th October 2023 then closed for the season)
Daily from 10 am - 4 pm (the last tour starts at 3 pm)
Pricing
Adults - €7.50
Senior Citizens & Students - €6.00
Children Under 12 - Free
Tickets can be purchased at the retail desk on arrival or from the link below.
Our mill tour invites people to see first-hand where our throws, blankets, scarves, and clothing are created. Our visitors can witness the passion and skill needed to make these hand-finished pieces and chat with third-generation weavers to learn more about the craft.
Winding & Warping
The warping frame is the first stage in our weaving journey. The pattern for the weave is handed over from our design team, and we create a pattern for the design. This determines the count and colours of the wrap threads, which are stretched across the loom. The weft threads are then woven over and under to create the fabric.
Our warping frame holds 384 cones of yarn, which are then placed in order onto the creel, feeding the threads in the correct sequence through the swift. Then, they are wound around individual beams which are lifted into the looms where the warp is tied in. Now, the weaving process can begin.
Some members of our mill's experienced weaving team remember starting with us when these stages of the weaving process would have been very different. Threads were transferred onto pirns, a long conical rod which weft thread is wound around, to be placed in the shuttles for our hand looms. This was at one point done using a bicycle wheel and later a pirn winding machine which we still use today. Our warping frames also looked very different and were all created by hand. These methods are very time and labour intensive and only allowed for a small quantity to be produced.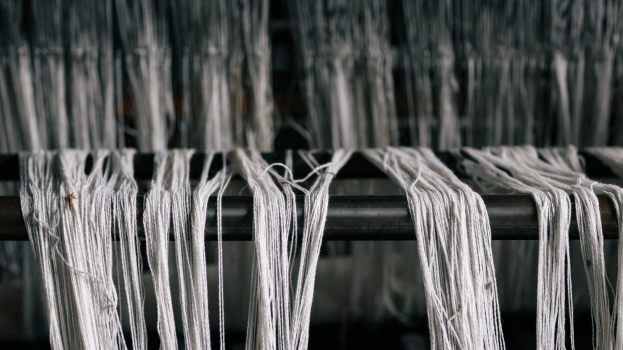 Weaving
In our mill today, we operate with both handweaving and power looms. To hone and develop our weaving craft over the centuries, it has been important to introduce modern methods while staying true to our heritage. This enables us to create woven goods which represent the standard of excellence we hold ourselves to. On both looms, the beam which holds the warp threads is inserted and each thread is tied on to the end of the previous warp threads. Prior to this, the new warp threads are hand combed to ensure they are separated and tie on correctly. We use a tying in machine for process on our power looms.
The Power Loom
On this loom the warp threads are stretched across the loom and the weft threads are loaded. Rapiers carry these threads across the loom weaving over and under the warp threads, following the pattern given by our designers to create the style of weave and colour formation of the newly woven piece of cloth
The Fly Shuttle Loom
On this loom each warp thread is hand tied to the loom by our weavers. They lift the warp threads up and down with foot pedals and sending the shuttle, which holds a pirn of the yarn, flying across the loom weaving the weft thread through the warp threads. A single weaver can craft up to 18metres of cloth per day using this method.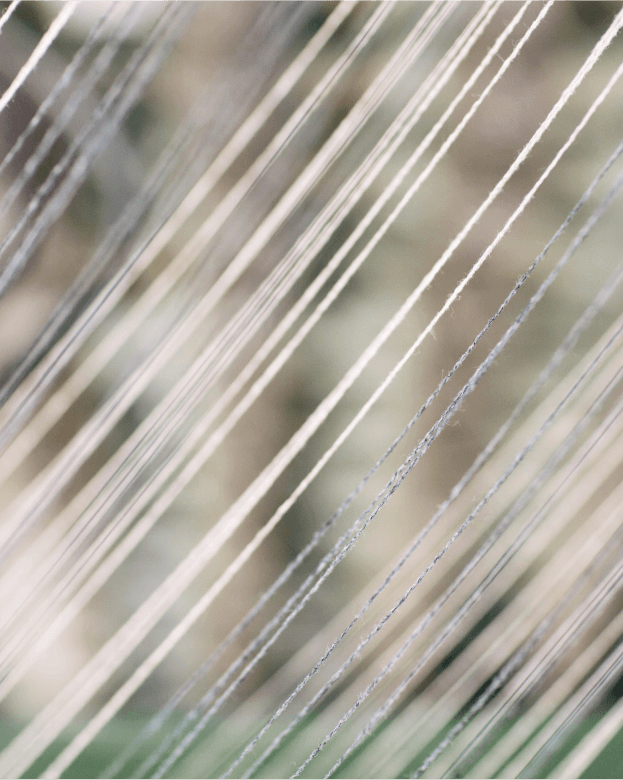 Fringing
Fringing is an integral part in the design of our throws, scarves and baby blankets.
The newly woven fabric is sent over to our fringing machine. The bolt of fabric is pulled tight around the frame of the machine and the spaces of threads which were not woven through with a weft are twisted tightly, creating a fringe.
Having our own fringing machine on site allows us to hand check each fringe and to specify the length, thickness and twist of the fringe.
Mending & Washing
Each and every one of our freshly woven bolts of fabric is handed over to our mending station at this point of the weaving journey.
Here the cloth is spread over an illuminated mending table where an expert eye examines and mends both sides the newly woven fabric by hand, ensuring the premium quality of our product as it continues on its weaving journey.
Once we are happy that the cloth is in perfect condition it is sent to be washed and brushed. As we are working with yarns created from fleece, they contain natural oils such as lanolin. These stages remove some of these oils and softens the fabric making it ready to be snuggled into when it reaches its final destination with you.
Cutting & Slitting
When the cloth has been washed and softened it is time for the individual scarves, wraps, baby blankets and throws to be cut from the spools of fabric and have their edges trimmed off.
The fabric is fed through the cutting machine in our weaving shed. This machine has a series of rotating blades which cleanly cut the fabric leaving a neat, straight edge.
Our team sets the correct number of blades depending on what way the fabric needs to be separated. For example, a spool of merino scarf woven fabric is six scarves wide, whereas a spool of throw fabric is just one throw wide. This process requires a close eye and steady hand to ensure everything runs smoothly.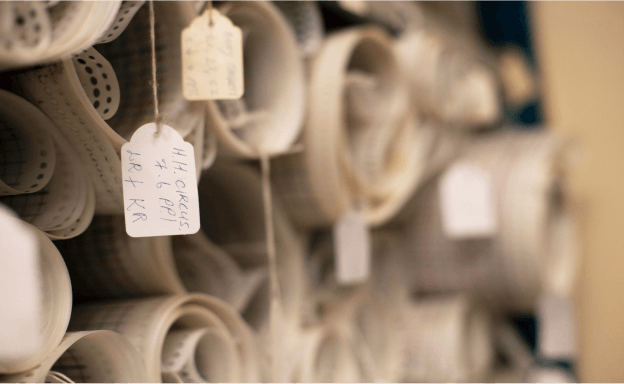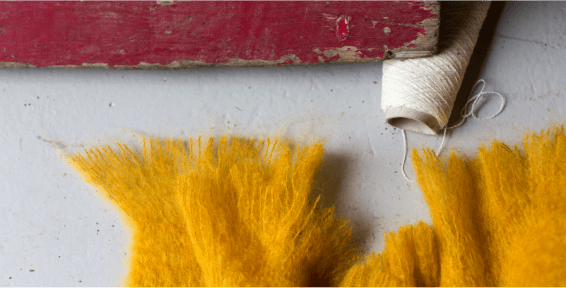 Labelling & Tagging
At the final stage of the weaving journey, we put our name to our product. Each Avoca label is sewn on in our mill, having met our seal of approval throughout each stage of its creation.
Tags are attached and everything is bagged up and sent on to our stores and online dispatch centre, ready to be chosen by their future owners.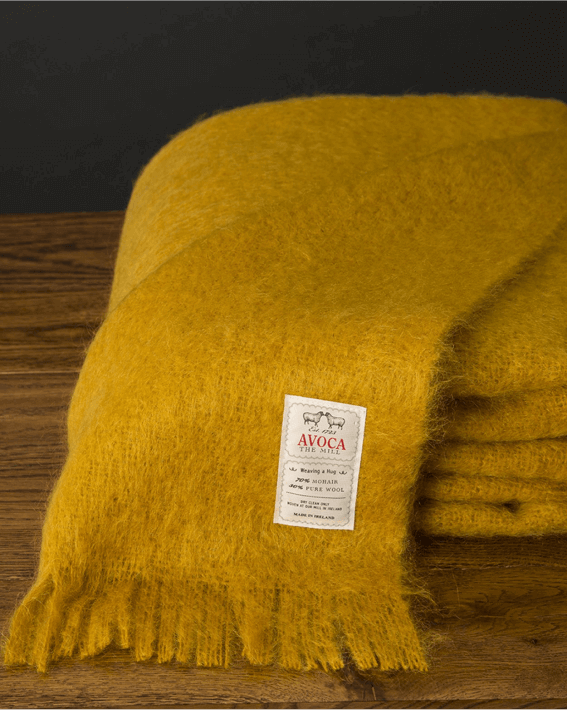 More from the mill
These unique scarves, throws and blankets take a journey from the first spool of yarn to the final stitch of our Avoca label. Browse our collection from our Mill and discover your favourite new design.