Location:
Powerscourt House,
Powerscourt Demesne,
Enniskerry,
Co. Wicklow
Phone:
Email:
Opening Times
Food Market
Open 7 days a week
9:30am - 5:30pm
Retail Store
Open 7 days a week
9:30am - 5:30pm
Avoca Café
Open 7 days a week
9:30am - 5:30pm
Outdoor Courtyard Coffee Hatch
Open weekends only - 12am - 4pm
Facilities
Wheelchair Access
Wheelchair Available
Parking
Disabled Parking
Disabled Toilets
What's Here?
Retail Store
Food Market
Self-Service
Café
Outdoor Terrace
Seating
About the Store
Avoca at Powerscourt is home to a retail store with fashion, homeware, gifting, books, kids' clothing, toys and lots, lots more. There is also an artisanal food market and a self-service cafe which backs out onto a stunning terrace. It's the perfect place to enjoy breakfast, lunch or your favourite sweet treat as you soak in the beautiful views over the manicured gardens onto Wicklow's Sugarloaf mountain.
Inside our Food Market
The Food Market at Avoca Powerscourt is home to a gourmet deli and bakery with freshly baked bread, scones and cakes, as well as an abundance of delicious artisanal foods from near and far. A true foodie heaven, you're sure to discover a whole host of unusual ingredients, herbs, spices, sweet treats and lots more on the fully stocked shelves. There is also a range of our homemade Grab & Go meals, so you can grab a delicious meal to take home with you.
Self Service Cafe
The self-service café offers customers the very best of deli-style fare, from homemade quiches and tartlets to freshly prepared sandwiches, soups, gourmet salads and lots more. One of the best things about dining at the café here has got to be the breath-taking panorama over the stunning gardens and beyond to the Sugarloaf Mountain. You can sit on the wide terrace and take it all in from here while you enjoy a delicious breakfast, lunch or sweet treat.
Inside our Store
There is a large retail offering at Avoca Powerscourt, with a range of women's and men's fashion, gifts, children's toys and clothing, homewares and lots more. We also have an extensive selection of our famous throws and clothing, woven in our Wicklow mill which is just an hour's drive away.If you'd like to learn more about the items made in our mill, you can find out more here.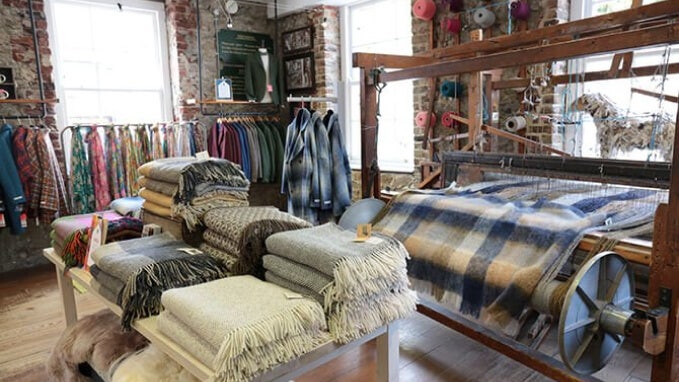 Christmas Opening Times
November 25th - December 20th
9.30 am - 5.30 pm (store), 9.30 am - 5 pm (café)
December 21st - 23rd
9.30 am - 5.30 pm (store), 9.30 am - 4 pm (café)
December 24th
9.30 am - 5.30 pm (store), 9.30 am - 3 pm (café)
December 25th & 26th
CLOSED
December 27th - January 5th
9.30 am - 5.30 pm (store), 9.30 am - 5 pm (café)