Opening Times
Retail Store:
Mon - Fri
9:30am - 5:30pm
Weekends and Bank Holidays
9:30am - 6pm

Food Market:
Mon - Fri
9:30am - 5:30pm
Weekends and Bank Holidays
9:30am - 6pm
Café:
Open 7 days a week
Mon - Fri
9.30am - 5pm

Weekends / Bank Holidays
9.30am - 5.30pm

Facilities
Wheelchair Access
Parking
Disabled Parking
Disabled Toilets
What's Here?
Retail Store
Café
Food Market
Malahide Castle
Gardens & Playground
About the Store
At Avoca Malahide you'll find a full retail store offering fashion, homewares, gifting, books, kids clothing, toys and lots more. There's a fully stocked food market with all the Avoca favourites and large self-service café, as well as an outdoor terrace to enjoy views over two of the castle's beautiful gardens. With a castle, grounds and gardens to enjoy, this breath-taking location is not to be missed.
Inside Our Food Market
There is an extensive food market offering at Avoca Malahide, where you will find a gourmet deli and bakery, as well as an abundance of delicious artisanal foods from home and abroad. A true foodie heaven, you're sure to discover a whole host of unusual ingredients, herbs, spices, sweet treats and lots more on the fully stocked shelves. There is also a huge range of our homemade Grab & Go meals, so you can choose a delicious meal to take home with you.
Avoca Café at Malahide Castle
There is an inviting self-service café at Avoca Malahide, boasting an expansive outdoor terrace where you can admire the views over two of the castle's manicured gardens. With a delicious range of Avoca favourites from homemade quiche and freshly prepared sandwiches, to hearty soups and freshly baked sweet treats, there's something for everyone to enjoy. We feel very lucky to have one of our stores and cafés here – Malahide Castle and its gardens are one of Ireland's top visitor destinations, and the charming seaside village of Malahide is just a short stroll away.
Inside our Store
Our stunning Malahide store opened in October 2012, offering the full Avoca retail range. There's a large selection of our famous throws and clothing, woven in our Wicklow mill, as well as branded women's and men's fashion, gifts, children's toys and clothing, homewares and lots more.
True to the usual treasure trove Avoca shopping experience, it's an easy place to while away the hours discovering unusual and unique items, with something for every taste.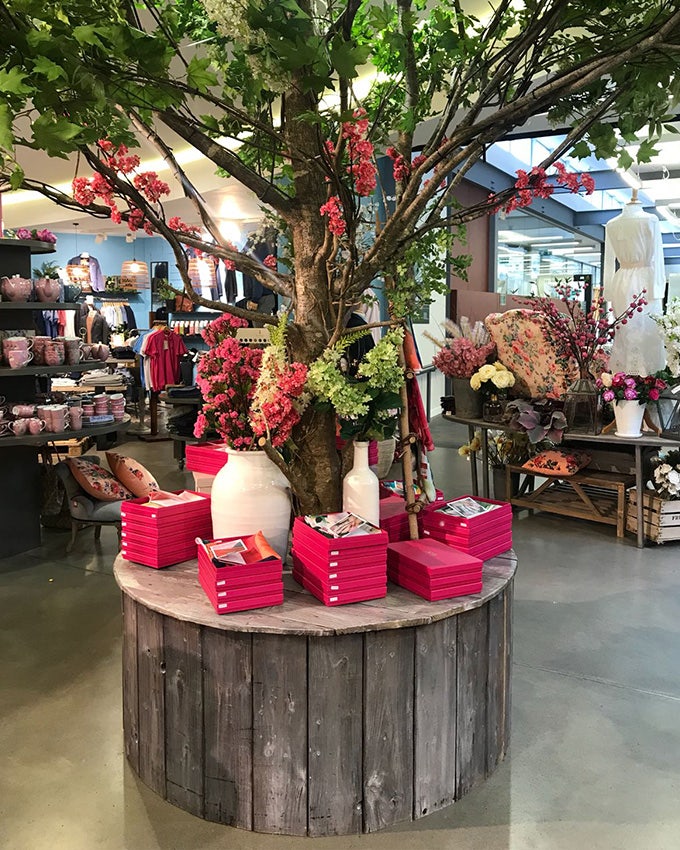 Christmas Opening Times
November 25th - 26th
9.30 am - 6 pm (store), 9.30 am - 5 pm (café)
November 27th - 29th
9.30 am - 5.30 pm (store), 9.30 am - 5 pm (café)
November 30th - December 1st
9.30 am - 8 pm (store), 9.30 am - 5 pm (café)
December 2nd - 3rd
9.30 am - 6 pm (store), 9.30 am - 5 pm (café)
December 4th
9.30 am - 5.30 pm (store), 9.30 am - 5 pm (café)
December 5th
9.30 am - 9 pm (store), 9.30 am - 5 pm (café)
December 6th
9.30 am - 5.30 pm (store), 9.30 am - 5 pm (café)
December 7th - 8th
9.30 am - 8 pm (store), 9.30 am - 5 pm (café)
December 9th - 10th
9.30 am - 6 pm (store), 9.30 am - 5 pm (café)
December 11th - 13th
9.30 am - 5.30 pm (store), 9.30 am - 5 pm (café)
December 14th - 15th
9.30 am - 8 pm (store), 9.30 am - 5 pm (café)
December 16th - 17th
9.30 am - 6 pm (store), 9.30 am - 5 pm (café)
December 18th - 20th
9.30 am - 5.30 pm (store), 9.30 am - 5 pm (café)
December 21st - 22nd
9.30 am - 8 pm (store), 9.30 am - 5 pm (café)
December 23rd
9.30 am - 6 pm (store), 9.30 am - 5 pm (café)
December 24th
8 am - 4 pm (store), 8 am - 3 pm (café)
December 25th & 26th
CLOSED
December 27th - 29th
9.30 am - 5.30 pm (store), 9.30 am - 5 pm (café)
December 30th- 31st
9.30 am - 6 pm (store), 9.30 am - 5 pm (café)
January 1st - 5th
9.30 am - 5.30 pm (store), 9.30 am - 5 pm (café)